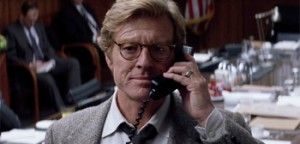 Spy Game (2001) is all about retirement: Nathan Muir's last day at work at the CIA. Muir (Robert Redford) has a protege, Bishop (Brad Pitt), who's been thrown into a very unpleasant prison in coastal China.
Muir calls his broker and tells him to sell all of his assets, raising $282,000 to bribe a Chinese official to cut off the electricity to the prison for 30 minutes, during which time Muir calls in a team of Navy SEALS to liberate Bishop.
Flashbacks take us to East Berlin and Beirut, but most of the film is set at Langley, following Muir through a last day at work before retirement. It's not easy to clean out your office while planning a covert operation a hemisphere away.
Even if you don't work at the CIA, retirement can happen unexpectedly, and it's important for clients and advisors to bear that in mind for financial and estate planning.
I wanted to obtain more data on when clients expect to retire, compared to when they actually do retire.
Excellent, recent data on this question is available in the 2014 Retirement Confidence Survey (RCS) of 1,000 workers and 500 retirees undertaken and analyzed by the Employee Benefit Research Institute.